Discover more from Big Sky Flowers Newsletter
Sustainable growing (and eating). Flowers, herbs and vegetables . Biodiversity will feature.
August: more wind and rain!
yet the flowers are still growing...
August began with a busy schedule - a family wedding in Dublin, bouquets for a local wedding, and then straight into the Fleadh. Also worth mentioning, it has been a great month for butterflies, lots of people have been talking about seeing Peacocks, Red Admirals and Tortoiseshells. One of the main food plants for these beauties is nettles, so it seems here and there, enough nettles are being left standing to feed the caterpillars - good news!
The family wedding was absolutely lovely - here's a little pose from the registry office
Thanks for reading Big Sky Flowers Newsletter! Subscribe for free to receive new posts and support my work.
Rushed home from that to make these 2 bouquets.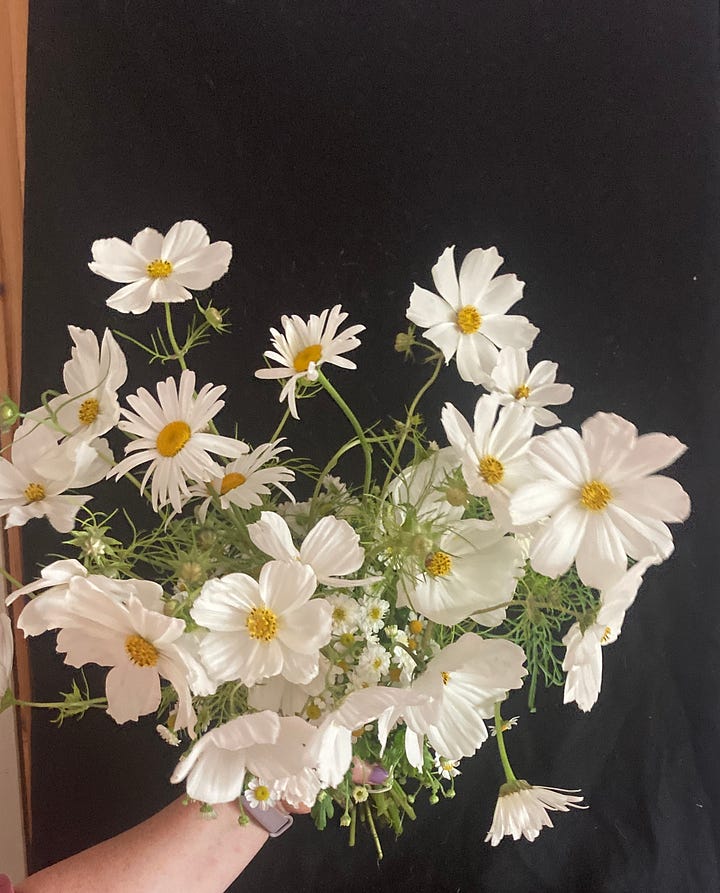 I'm delighted with the guidance that the bride gave me, and with how both bouquets turned out. Reckon she was happy too, nice when you get a hug on delivery!
The Fleadh was a wonderful opportunity to show off Mullingar, and the council pulled out all the stops to make sure that everything looked beautiful throughout the event. I was delighted to donate bouquets for various presentations - here's a few photos of the happy recipients.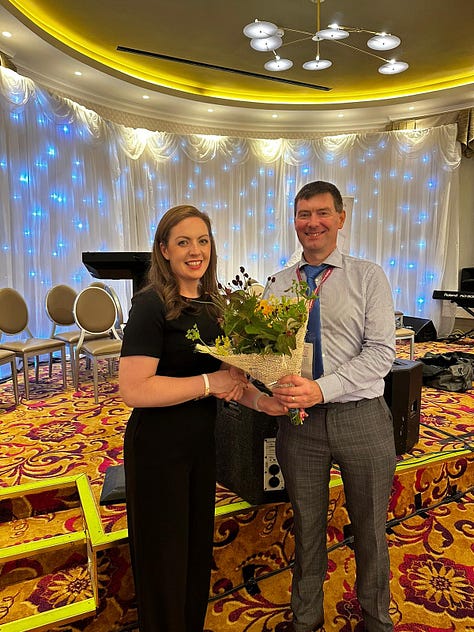 The Westmeath Coco environmental officer Aisling Stafford invited me to be a 'tenant' in the green tent on Thursday afternoon - unfortunately that meant that I missed out on the choral society's performance, and seeing my husband singing. But it was a great chance to talk to people from all over the country about locally grown flower and the carbon footprint of imported flowers, so worth it, I suppose!
I had a go at making some flower crowns for this event, that got lots of positive attention. Thanks to Gráinne for providing the dried flowers for these! I reckon dried flower crowns would be a fun workshop - what do you think?
Here's what the tent looked like :
And here's a lovely flower crown wearer!
Once the Fleadh was over, it was time to prepare for some in person workshops. I ran a soap making workshop in Athlone at Lowe and Co. Always tricky to set up in a new location, but everything worked out splendidly, the participants had a good time, and went home with some freshly made soap, and some that I had made previously, that we unfolded, cut up, and wrapped prettily.
It was lovely to meet Athlone folks, and I was able to squeeze in a quick trip to Magico Bakery where I invested in a few mystery bags. So my freezer is now full of delicious sourdough bread.
I had planned to take it easy in August - not an easy thing for me to to, but I've been doing better at going dipping, and even managed a few sea swims. And the sun shone for my impulse trip to Salthill with my water loving son!
I hosted the Flower Farmers of Ireland instagram account - I did a few garden tours that went down well - if you didn't catch them then, they are still available
I've really been enjoying having my husband out to Coole once a week with me - and he's been improving his scythe technique. We have an acre or so to mow, and he has been making good progress. It's a lovely low carbon way to mow, and is a great workout if you sit at a desk most of the time. I would never have dreamed of buying a scythe, but it's not the overwhelming trial I thought it would be - in fact I'd highly recommend it. And there's help and encouragement from the Scything Association. An organisation with lots of female representation!
So, what am I looking forward to?
Well the Flower Farmers of Ireland (training subcommittee) have organised a 2 day members event with Anna Potter coming from the UK, and some member led training on day 2 in Horetown House. It will be a floral themed mini holiday and I am so looking forward to participating!
Some upcoming courses:
I'm running a course in Mullingar library on 16th September - 10:00 AM to 12:00 PM- Growing Culinary Herbs: Click here to book your free place
Look under your sink or where ever you keep your cleaning products and check for this label:
This indicates that the product is environmentally harmful. Now if the product kills trees and fish, is it something that you want to use in your home? If you'd like to find safe alternatives to this kind of product, Eibhlin will run a Eco-cleaning course in The Refill Mill on Sept 27th from 6-7:30pm. Click here to book your place
In a similar vein: Eibhlin will be showing Athlone people how to make natural skincare products in Lowe and Co - September 14th from 10-11.30am
The Seed Saving course on October 4th and the Soapmaking course on September 20th in Mullingar are both sold out. Let me know if you'd like to be added to the wait list for either of these. (annambrowne@gmail.com)
These are the last few of our Lakeland learnings courses- the program that was funded by Creative Westmeath. The feedback from the participants has been wonderful, and people definitely want more of this kind of experience. Eibhlin and I will hit the drawing board in early September, and come up with a program for the rest of the year.
And if you're interested in soil health - there's a Talamh Beo course happening in Longford this weekend.
Now's the time to think about planting your hardy annuals, so that you'll have beautiful flower early next year - think cornflower, nigella, ammi, nigella and poppies.
And as usual I'll leave you with a song - seems appropriate for the end of summer :
Thanks for reading Big Sky Flowers Newsletter! Subscribe for free to receive new posts and support my work.